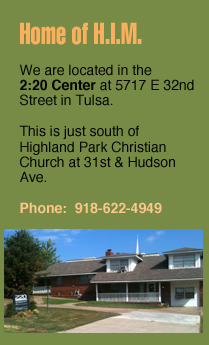 Meet our Staff

N. Dane Tyner
Founder, Director, and Counselor

Dane has served as an ordained Christian minister since May of 1979. He holds a Bachelor of Arts degree in theology from Oral Roberts University and a Master of Science degree in counseling psychology from Northeastern State University. He has been a charter member of the American Association of Christian Counselors since 1986. Extensive experience in inner healing and relational healing, gained while serving 15 years in local church ministry, further equipped him to found Home Improvement Ministry, Inc. in 1994. His wife, Kathryn, works closely with him in ministry. Dane is a contributing writer for a variety of publications. Several of his articles are posted on a secular online writer's community, www.Searchwarp.com.




Mary L. Call
Staff Counselor

Mary received her undergraduate degree at Southern Nazarene University in Family Studies & Gerontology. She earned an M.A. in Christian counseling from ORU in 1997 and was subsequently ordained into the ministry of Christian counseling. Mary has been a member of HIM staff since then. She has 21 additional postgraduate hours in the Human Relations program at the University of Oklahoma.
In addition to university work, Mary received over three years of on-the-job training under the supervision of Dane Tyner. She also received certification in Critical Incident Stress Management from the American Red Cross. She is a member of AACC (American Association of Christian Counselors) and CAPS (Christian Association for Psychological Studies).
Besides her work at HIM, Mary has experience in inpatient psychiatric work and works as a part-time chaplain for a local hospice. She is active in the Celebrate Recovery Program of her local church.